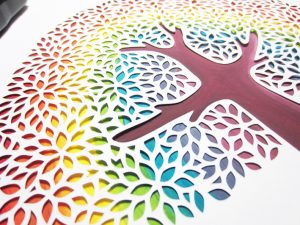 I've been cutting holes in paper since 2013, when I was inspired by some amazing papercut art I'd seen online. I designed a picture for a friend's special birthday and have been papercutting ever since.
I can be found most evenings, scalpel in hand, making pretty pictures in my studio. I love creating patterned landscapes and most of my pieces have painted or mixed media backgrounds, giving them a colourful, stained glass look.
Thank you for looking at my work. If you have any questions or would like to commission your own piece, please contact me.