When I started drawing out my recent design 'Sweetheart', I never imagined how popular the idea would be. The idea was – a heart shape, filled with cuts shaped like my favourite traditional sweets, such as shrimps, cola bottles, jelly beans and teddy bears (to name a few).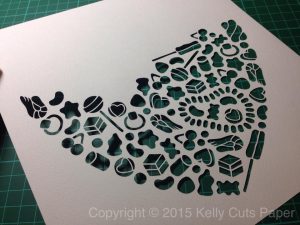 Once I cut all the sweet shapes out, I had the fiddly task of adding the colour behind. Each sweet shape had to be cut out of paper and coloured using paints, pencils and pens and then layered behind the papercut.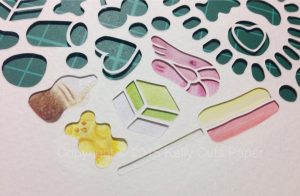 I loved the way the picture slowly came to life, sweet by sweet, as I added the coloured pieces.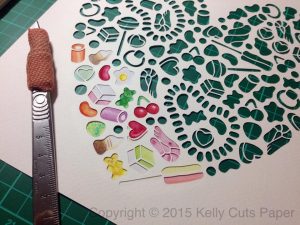 Until, finally, the whole heart was filled and 'Sweetheart' was finished.
When I started, I thought this was a fun piece, a frivolous piece, but actually when I finished it, I realised that it's more than that. It's a picture that makes me happy because it reminds me of my childhood, when my life was simple and I visited the local sweet shop and bought a 20p mix up in a small white paper bag, and 20p got you 20 sweets.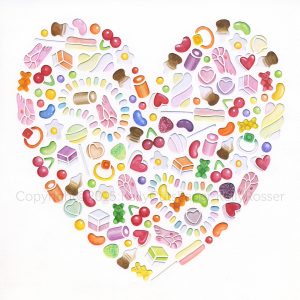 I hope you like it too.
Thanks for reading,
Kelly
Prints and templates are now available from my Folksy and Etsy shops.