When I create papercut designs which haven't been commissioned by someone, I usually keep the original for my portfolio and sell prints, cards, etc of that design. I find it very hard to part with my original work as I spend so much time drawing and designing it, cutting it by hand, then meticulously painting and colouring the backgrounds. I get attached to them! So I decided to create some tiny versions of some of my most popular designs that I would sell in my Folksy shop and these 4 tiny framed pieces are the result. It's hard to describe how teeny tiny the details are in these papercuts, I'm hoping these progress shots give a better impression of how small they are!
The first design – Tree of Love is based on my popular style of family tree, with clustered leaves and hanging hearts.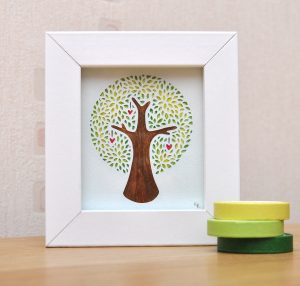 The next tiny design is called 'Summer Meadow' and has been based on my popular design 'Flower Garden'. I love the colours in this one, and the patterned layers that make up the picture. This one was a real challenge to cut, but is beautiful, so definitely worth it!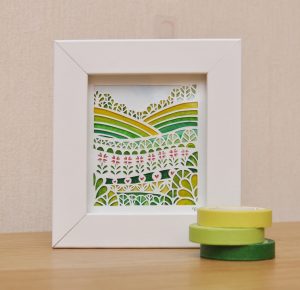 I love creating little patterned hills and landscapes so my other 2 designs are both based on this concept. First, a little fairytale castle sat on a hill.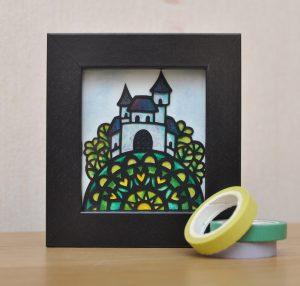 Next, a tiny house, nestled amongst the trees on a colourful patterned hillside.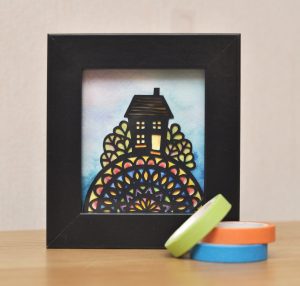 The background for this design was based on colourful fairisle sweaters. This wasn't the plan originally for this piece, but I had seen some knitting patterns with gorgeous colour combinations that were so cheerful, I wanted to replicate that in this piece! When finished, this was my favourite out of the four miniatures, it makes me happy to look at it!
If you would like to purchase one of my originals, you can visit my Folksy shop here.
To commission something brand new, contact me here.
Thanks for reading and bye for now
Kelly x